Energy Saving Tip 3 – A steamer or slow cooker can save you energy as often whole meals can be cooked at once.
Steamers and slow cookers have become increasingly desirable and attractive as our lifestyles have become more hectic. Not only are they a great way to prepare a full meal but they can provide a very efficient use of the power used by each device.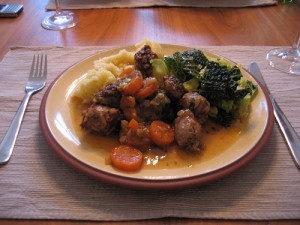 Slow cookers (sometimes known as Crock Pots) are excellent for cooking meals such as casseroles, stews and portions of meats which benefit from light and prolonged periods of heat.
A slow cooker allows you to make meals that are generally very tender with little effort or knowledged required. You are able to start the slowcooker in the morning and let the meal cook during the day whilst you work, play, relax, or spend time with family.
Food steamers have similar benefits to slow cookers as in the electricity used to power the steamer can be utilised for all the parts of your meal. A food steamer, or steam cooker, cooks the food with steam which helps retain the vitamins and minerals in the food. Boiling food in a pan can be quite an inefficient user of energy but also removes most of the vitamins and minerals out of the food.
Our favourite slow cooker recipe – Beef and Ale Stew
* 500g braising beef
* 1 onion, chopped
* 2 sticks celery, roughly chopped
* 2 carrots, sliced lengthways and roughly chopped
* 500ml bottle of good ale (I used Speckled Hen)
* 200ml hot beef stock
* 2 tablespoons tomato puree
* 2 teaspoons brown sugar
* 2 teaspoons wholegrain mustard
* sea salt and freshly ground pepper to season
Chop up the beef into 3cm cubes and trim off any fat, chuck it into a hot pan and brown it in a little olive oil, then set aside.
Add a little more oil, then fry the onion, carrot and celery until browned, then add the meat back in, the flour, mustard, tomato puree and sugar. Give it all a good swish round so the meat is nicely covered, then add the bottle of ale and beef stock. Season generously with salt and pepper.
Depending on the thickness of the sauce you might want to simmer it a little to thicken it up, it won't get a lot thicker whilst slow cooking.
Throw it all in the slow cooker, then cook on medium for 6-7 hours.
Photo by simonwheatley