Heating controls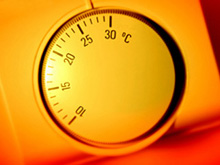 Heating controls control your heating distribution with the ability to programme both time and temperature. These controls are essential to ensure you only heat areas which you need heating, when you want to.
Are you in control of your heating?
Do you heat a room(s) you do not use?
Do you heat a room(s) when you're not at home?
Yes, sometimes.
Read on, the beauty of installing a full range of heating controls to your heating system can quickly be seen.
You can control your heating with:
Heating system programmer
Heating timers and programmers are available in various formats and range in complexity and programmability. They range from a basic timer which switches the total system on and off at specific times to a multi-channel full programmer. Full programmers allow greater control of operation times, temperatures of zones and whether the heating is to be used for space heating or hot water.
Room thermostat
The technology has advanced with heating thermostats and many systems can be fitted with wireless thermostats. However, most room thermostats are wired into the heating system. Thermostats are a sense and control the air temperature within a room by switching the heating on and off at the temperature you set. Remember the room thermostat is needed as well as the thermostatic radiator valves, to enable the boiler to switch off when no heat is required.
Thermostatic radiator valves (TRVs)
Thermostatic radiator valves (TRVs) which are sometimes known as radiator thermostats offer individual control of each specific room's radiator and the temperature you allow it to reach. This allows you turn radiators off in rooms that are not often used and control the temperature of each radiator.For example, they can be set to be warmer in the living room and bathroom than in the bedrooms. Radiator valves should be fitted to every radiator except one, the radiator in the same room as the room thermostat.
Cylinder thermostat
Cylinder thermostats are attached or integrated into a hot water cylinder and work similar to the room thermostat. Cylinder thermostats measure the temperature of the water and will refrain from heating the water further when it reaches the temperature you have set. Make sure your hot water is not too hot; a cylinder thermostat need not normally be higher than 60°C.
Be sure to contact a suitably competent and qualified heating engineer to confirm the heating controls are suitable for your heating system.
Email/Twitter
Email Updates
Subscribe and receive our newsletter
Share this page