Energy Performance Certificate (EPC)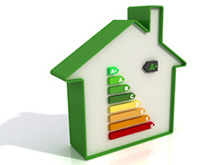 Energy Performance Certificates (EPC) are now required when you sell or rent your home and have some great information on areas which can be improved of which energy saving grants can often be accessed.
An EPC tells you how energy efficient a home is on a scale of A-G similar to how we have become used to on appliances. The most energy efficient homes - which should have the lowest fuel bills - are in band A.
The Energy Performance Certificate also shows levels of CO2 emmisions on a scale of A-G. related to the impact the property has on the environment. Better-rated properties should have a smaller environmental impact through lower carbon dioxide (CO2) emissions.
The average property rating in the UK is in bands D-E for both ratings. The EPC report includes recommendations on ways to improve the home's energy efficiency to save you money and help the environment. The cost of the certificates vary, often dependant on size and location of the property.
Many of the energy providers/utility companies now carry out an online questionnaire which produces graphs which look similar to an Energy Performance Certificate, please be aware this is not the same as an EPC.
An EPC is valid for 10 years and can be used for sales and rental purposes. It maybe worth considering having one commissioned (especially if you are unsure on what specific energy saving improvements could be made to your home) and then accessing energy efficiency grants which are applicable to improvements detailed in the report.
Email/Twitter
Email Updates
Subscribe and receive our newsletter
Share this page