It's strange isn't it? Every year feels colder and wetter, we have storms and torrential rain, yet come summer we're always told that we are on the cusp of a hose pipe ban! More and more of us are spending more time in the garden and being encouraged to grow our own vegetables. So how can we bridge the gap between water shortage and watering the vegetable patch? Step forward the humble Water Butt.
Water Butts have been around for a long time as a gardening tool, but have recently become fashionable for environmentally friendly reasons. As everyone will know a Water Butt is a storage tank for external collected water than can be used to supplement the garden for water.
Anyone who has a garden, vegetable patch, or simply needs an external non mains source of water should consider having one. So what should you consider to effectively utilise a Water Butt correctly?
Where to put a water butt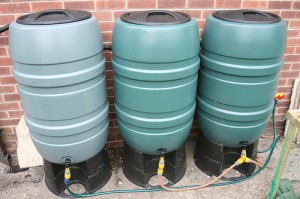 Sounds simple but the first thing is finding the correct position for a Water Butt. Traditionally they have been located under a downspout from guttering on a property or a shed, with the spout connecting via the lid into the Water Butt. However, they can be located in any area which is exposed to excess rainfall. If you have several downspouts then you can always locate several Butts, or if you are confident enough have the various spouts locate to one central tank.
How do I situate my water butt?
So if you have found what you think is the perfect spot, what next? Well, hold on. You'll need a firm base for the Water Butt. Remember the cylinder will soon fill full of water and you don't want that being unstable, or causing damage. So you will need to either make a base for the Water Butt or utilise a patio or similar. Also ensure that the site you have selected doesn't obstruct an important area, like the building damp course or access to the main drains. It is always important to consider any overflow or run off from the Water Butt and where the water may drain to. You should ensure adequate drainage to prevent any problems arising.
What size water butt should I buy?
Next, make sure that you select the right sized tank for your needs. They come in a huge variety of shapes and sizes. Ensure you get one that will store the level of water you require and also to fit the area that you are filling. Too large and it may cause an obstruction or even when full could cause the base to become unstable. Also consider the safety aspects for your locations, after all it is unlikely to have an accident or to fall in a Water Butt, but stranger things have happened!
Accessing the water butt
Think about access arrangements. How do you plan to access the Water Butt? How do you propose to get the water out? Ensure that a tap is fitted to the Water Butt base to help, or place the lid of the Butt at a low enough height to enable safe access from the lid.
There are professional companies that will happily give assistance and install a Water Butt to match any requirements. As always we would recommend that if you are in doubt that you should seek professional advice. Here's to avoiding the next hosepipe ban!
Written By Symon Silvester
Photo by Greg Pye