Heating and Hot Water Systems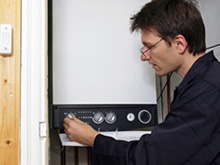 Production of heat and hot water for our homes uses the majority of the energy we use. By making improvements to your heating and hot water systems you will see real tangible differences in reduced fuel bills and your associated carbon emissions.
Heating and Hot Water Boilers
With a conventional heating system there a 2 main boiler type choices, whichever fuel you will use to power the boiler; gas, oil or LPG.
Conventional boiler types
Combination boiler (combi boiler) that provides both your heated water for the radiators and hot water from your taps
Regular, system or open vented boilers which supply your heated water for the radiators and is also connected to a hot water cylinder. The hot water cylinder stores the hot water which supplies your hot water taps
What is a condensing boiler?
A modern condensing boiler is the most efficient way to heat water at present. Both types of conventional boilers mentioned briefly above are available in a condensing form e.g. condensing combi boiler, regular condensing boiler.
In 2005 (2007 for oil) it became required that, when new boilers were installed they were/are condensing boilers except in a small minority of exceptions.
Should I install a regular boiler/cylinder or combi boiler system?
A combi boiler can often be cheaper to run as only the water that is needed is heated when you need it. A combination boiler does not require a hot water cylinder and therefore can have space saving benefits. However, if you have issues with low water pressure and/or have a number of bathrooms a combi system may not be suitable.
Whichever boiler you decide is the most appropriate for your home it is essential that the heating system incorporates an efficient set of heating controls.
Be sure to discuss the best boiler option for your property with a suitably experienced and qualified heating engineer.
Do you a band G boiler?
If you have a band G boiler, you maybe eligible for the boiler scrappage scheme where you receive £400 towards the cost of a new condensing boiler.
How can I tell if I have a band G boiler?
If your boiler has a permanent pilot light it is quite likely to be a band G-rated boiler. Also, the following scenarios may indicate your boiler is rated in band G.
Gas fired and older than 15 years old
Oil fired and over twenty five years old
Floor Standing Boilers - Pre 2002 with permanent pilot ignition
Wall mounted boilers - Pre 2002 with cast iron heat exchanger and permanent pilot ignition
Combi boilers - Pre 1998
Back Boilers - Pre 2002
You can also check on the following sites if you can identify your boiler manufacturer and model.
Government Boiler Efficiency Database
SEDBUK Boiler Efficiency Database
Or alternatively you may wish to ask a suitably experienced and qualified heating engineer to help you.
Email/Twitter
Email Updates
Subscribe and receive our newsletter
Share this page