Cavity Wall Insulation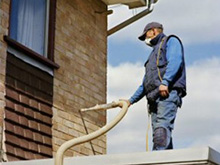 Un-insulated cavity walls can lose a large proportion of the heat you produce. If you insulate cavity walls you will reduces your carbon emissions, heat loss and will save you around £125 a year on your utility bills.
Can I have cavity wall insulation?
Cavity walls became common place after 1920-1930; so if you house was built after this period then it is likely you will have cavity walls. A cavity wall describes how your external walls are constructed with two separate layer of brickwork or blockwork with an air space in-between. Insulating your cavity walls means filling that gap to provide improved insulation properties of the walls.
Do not worry if you can not identify what type of walls you may have as cavity wall insulation installers generally offer a free no obligation site survey where they will identify if your property is suitable for a filled cavity wall.
Should I insulate my cavity walls?
Cavity wall insulation is an effective way to improve the energy efficiency of your home, reducing your heating consumption, energy bills and carbon emissions.
The debate in regard to whether cavity wall insulation is a good idea continues with opinions very split on the issue. The majority of properties with filled cavities do not experience any problems or issues and the Government continue to promote the installation of cavity wall insulation with wide spread grants.
If every domestic property in the UK had cavity wall insulation installed where applicable we would save around £700 million and nearly 4 million tonnes of CO2 each and every year.
The materials used in cavity wall insulation, include urea formaldehyde foam, mineral wool and expanded polystyrene bead. The manufacturers say they withstand vermin, fungi, rotting, and are water resistant. The Cavity Insulation Guarantee Agency (CIGA) provides independent 25-year guarantees for Cavity Wall Insulation fitted by registered installers in the UK.
Costs of cavity wall insulation
The cost varies amongst installers and can be dependant on the size and type of property (approx £200 - £400). You maybe entitled to a grant for cavity wall insulation which could mean it was installed free. If you are not able to claim a full grant you maybe able to receive a partial grant towards the cavity wall insulation cost.
Cavity wall insulation cannot be installed if:
You live in a flat and the upstairs and downstairs neighbours can not agree on the installation
The walls must be filled from the ground to the roof they can not be partially filled.
There are any signs of damp. damp problems must be cured before cavity wall insulation can be installed.
The cavity width is less than 50mm or 2".
The property is of timber or steel framed construction
The cavity contains rubble inside
The damp course is not functioning properly
If ventilation is poor and a vent or air brick cannot be fitted.
If you are in doubt with any of the above be sure to contact and consult a cavity wall insulation specialist.
Email/Twitter
Email Updates
Subscribe and receive our newsletter
Share this page