Hot Water Cylinder Insulation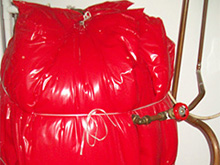 Hot water cylinders are generally insulated either with spray foam, an insulating jacket or as part of an encapsulated tank. Increasing the thickness of existing insulation up to 160 mm around the hot water cylinder will help to keep the hot water at the necessary temperature. The cylinder insulation will lower the amount of energy used and reduce your fuel bills.
Cylinder jacket insulation
A hot water cylinder jacket costs around £10 - 12. Cylinder jackets are often red in colour and are a layer of insulation that is fitted around the hot water cylinder. The jacket should be fitted directly over the top of any existing insulation and thermostat clamped to the hot water cylinder.
Hot water pipes from the hot water cylinder should also be insulated, using pre-formed pipe insulation of up to 50 mm thickness, or to suit the space available, for as far as they can be accessed.
You can buy cylinder insulation from most DIY stores and they can be quite easily installed by a competent DIY enthusiast.
Email/Twitter
Email Updates
Subscribe and receive our newsletter
Share this page