Solid wall insulation and external wall insulation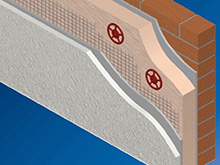 Solid wall construction leads to greater heat loss than cavity walls though they can be insulated internally or externally. Solid wall insulation involves adding a layer of insulation to either the inside or the outside surface of the external walls, which reduces heat loss and makes the property more energy efficient.
Internal solid wall insulation
Internal solid wall insulation is more expensive than cavity wall insulation and it is only recommended for walls without a cavity, or where for technical reasons a cavity cannot be filled.
Internal insulation, which is often referred to as dry-lining, requires a layer of insulation to be fixed to the inside surface of external walls. This type of insulation is best applied when rooms require redecorating and could be installed by a competent DIY enthusiast.
Trade names such as Kingspan and Celotex who manufacture internal solid wall insulation have become associated and synonymous with solid wall insulation. As the related products develop so do their applications and the combinations of products, it is quite common place to find internal insulation boards integrated with plasterboard.
External solid wall insulation
External insulation is the application of up of three basic layers – an insulant, a fixing, and a weather protective, decorative finish to the outside of the wall. This may improve the look of the home, particularly where existing brickwork or rendering is poor, and will provide long-lasting weather protection.
Typical external insulating treatment to the outside of your wall usually requires attaching standard size insulation boards (between 40-100 mm thick). The final finish can be vary from a cladding to a smooth render which can be subsequently painted. The total thickness once completed is between 50 and 150mm.
The design and installation of external wall insulation should be carried out by a specialist. It is advisable to use certified insulating materials and components.
Email/Twitter
Email Updates
Subscribe and receive our newsletter
Share this page