You may live in a Conservation Area or in a Listed Building and think that energy efficiency is not something that you can think about, or is practical to implement. You may think you would incur the wrath of Building Controls and Conservation Officers if you did decide to do anything. However, there are normally always some measures you can undertake to improve your energy efficiency and to save you both energy and money in any environment.
Firstly, it is important to say before you do anything you should speak to Buildings Controls or your local Conservation Officer. They have final say over anything in a Conservation Area or a Listed Building,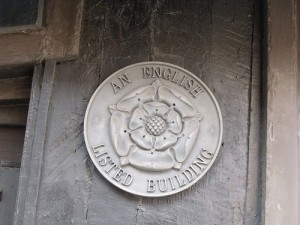 so it is wise to consult them first before you do anything. It is also important to be realistic in your expectations. If you happen to live in a Listed Building you are not likely to get permission to put up solar panels or to mount a wind turbine. Similarly structural work that could change the character of the building is also not likely to be permitted, for example, some types of wall insulation. Gaining approval for Double glazing does tend to be a hit and miss affair and has to match exactly the style of the windows that are being replaced.
However, it is entirely possible, in fact probable that you will easily get permission for:
Low Energy Lighting – If you have light fixtures within the property you should be able to utilise modern light bulbs, or change the fixtures to accommodate modern energy efficient ones like the fixtures made by Kichler lighting.
Loft Insulation – If you have a loft void then you should seriously consider having a good level of loft insulation. The modern standard for mineral wool insulation is 270 millimetres or 10.5 inches. The void might not be able to take that amount, but you should put in place what you safely can.
Boiler upgrade – A change of boiler is expensive but can really help you with cutting your bills and improving your household energy efficiency, not to mention providing the right level of heating across a property.
In addition to these alterations, it is important to realise that there is much you can do yourself to help cut your usage, even within a Conservation Area or a Listed Building. For example, adequate draught proofing, remembering to switch off lights in unoccupied rooms, turning thermostats down by one degree and not leaving electronic equipment on when not in use.
Combining basic energy efficiency measures and changes in your routine you can make significant savings to both your energy usages and on your bills in general. Further measures could help you make even more of a saving, but as always you must speak to your Local Authorities first. If permission is given for an improvement measure then make sure that you use professional companies that have a background and track record in working in Conservation Areas or on Listed Buildings. If in doubt ask the Local Authority for a list of approved contractors.
It may be advisable to also seek advice from others who have undertaken similar improvements. There are a number of specialist organisation such as the The Listed Property Owners Club where you could benefit from others experience.
Just because you live in a Listed Building or in a Conservation Area doesn't mean that you can't make your property more energy efficient and save money.
Photo by ell brown